3 Must-Have Tips for Better Business Blogging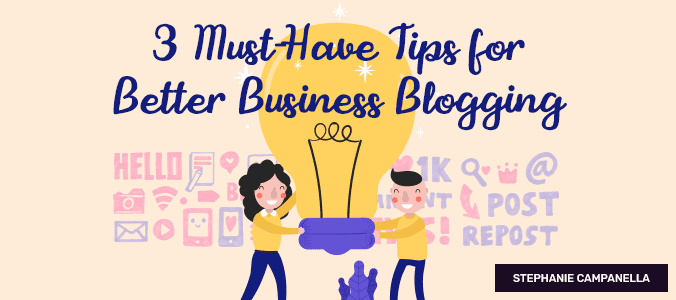 Think that a blog for your business is a little lame?
Well, think again – according to marketing guru (and prolific blogger) Neil Patel if you blog regularly your business is likely to have 97% more inbound links than if you don't.
Blogging translates into more indexed pages, more search engine traffic and more visibility online – which all result in more leads. Who doesn't want that?
But blogging can seem like a slog and it is easy to doubt if it is all worth it. Follow these 3 tips to make people want to read your blog, and develop content that turns your occasional visitors into loyal followers, and in time customers.
1. Educate, entertain and avoid the hard sell
You need to put away your sales hat when you begin work on your blog. Nothing is going to turn off your readers more than a thinly disguised sales pitch. Instead try think of genuinely useful posts that build trust and authority with your audience. Develop a library of articles that generate traffic to your site and watch those leads come rolling in.
2. Know your audience
To develop blog content that resonates with your audience you need to know who they are. Who are you writing for? What problems do they have? How can you help them achieve their goals? Start filling these gaps in and you will be able to develop personas of your readers/customers – a fuller picture of who they are and what they want from you. You can then begin developing blog content that helps answer all their questions.
3. Work your niche, become an authority
Struggling for inspiration developing titles for your blog? Rather than following the herd focus on your area of expertise and become a 'go-to' for everything related to your niche. Develop quality content that educates and inspires and you will very quickly gain the trust of your readers. Tap into the expertise of people in your organisation – they could be an invaluable resource and source of blog content gold.
Too busy to write? We can help. Get in touch today to get your business blog up and running.