How The 4 Keys To Content Automation Influence Your Marketing Campaigns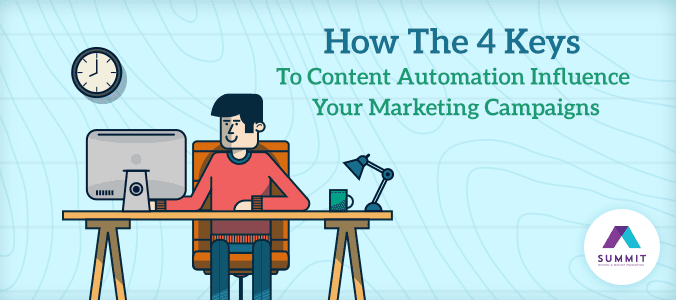 The 4 Keys to Content Automation begins with a "sound foundation, the system that works best for you, and builds with your team from there." It influences your marketing campaigns and your team to build and grow your company. The following 4 key considerations explain this concept in more detail.
1. Know exactly what you want
The one factor you want more than anything else for your campaign is "Focus!" This is the big one. For your team to understand your plan and see the big picture,you must lay the picture and plan out for everyone on your team to see it like you see it. Their creativity kicks in and they are ready to contribute.
2. Creating better, irresistible offers
In your marketing and sales funnel, a better offer leads to better conversations. It takes an eye-catching social media post, a landing page headline, your ad sales copy, or a click-through driven from an email to engage people with better offers. Raise the bar constantly.
3. In the right places — promote your offers
To grow your business stay in front of the right people, and do it with limited time, a tight budget, and knowledge that works. Here's where automation and targeting enter. Spend your budget wisely by targeting your prospects and automating the follow-up. "What if you could slash your cost-per-click or cost for a new customer by 400 percent or more?" It can happen by working harder and promoting at a lower cost.
4. Use landing pages and measure everything
Better landing pages have the power to give your company highly relevant sales, offers, and pitch pages presenting amazing offers. For all your campaigns use better landing pages to guide your customers to your website. Also, leap on the reporting, business intelligence, and analytics tools assembled into your marketing automation platform. Use them daily until you get the information you need. Measure what's happening with:
your ad spends
open rates
click-through
subject lines
headline
ad-copy
page views and video engagement
call tracking and more.
There is no reason to fly blind when the information is at your fingertips. Lastly, never stop following up on telephone calls, direct mail, emails, or singing telegrams if that's what it takes. Your list grows by following up.
And when you get online put yourself in the shoes of your prospect and customer. Think like they do. And take back to your team what you see as the prospect. "Adapt it to your plan and strategy and remember: sales and marketing is a process, never an event, so keep on measuring, learning as you go, and adapting along the way."
As always, if you don't know where to start, give us a call.