Nailing It 15: How to Get the Most out of Conferences and Events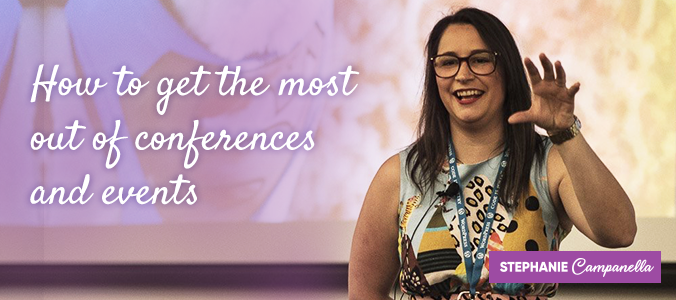 I'm off to Social Media Marketing World next week in sunny San Diego, so here's my five must-dos when speaking or simply attending an event.
With so many events around the world to go to, it's tough to choose just a few. I mean there's so many things to consider. It's the time away from your desk or your office. It's the travel time. It's the hotel cost. It's the expenses, but they're all negatives. You got to think about what you're going to get when you walk away from that event. You could potentially be a completely new person because of the transformation that has happened in the room.
Now, I have made events a big part of doing business. In fact, for my niche back in 2013, I went hard in the events marketing sector because I wanted to build an audience. I was doing it offline because that's particularly where the customers would go to take action, so I was hanging out where my audience would hang out. Now, even though my audience, these days, is creatives, I'm still attending events over in the States because I mean, sure, I'm connecting with creatives every day online, but when you have that in-person, as Chris Ducker likes to say, "person-to-person experience", the relationship just beds so much stronger, and you really get to know who you're talking to. In-person events are freaking awesome.
When you get to the event, even if it's just down the road or across the world, you get there and sit down amongst other peers that want to do something just like yourself. There's someone at the front just delivering on point. This is when the magical transformation happens. Insert Mickey Mouse wand sound here. It's transformation that you're looking for because you might be a little bit sick of your business. You might be a little bit lost. You're not really sure where to go.
There might be a variety of reasons why you're even going to the event in the first place, so make sure you check in with yourself and go, "Why am I going to this? Am I going because it was a free ticket? Am I going because it was $49? Am I going because a friend told me to go? Am I going because there's a network of people that I want to get to know, I want to know what's going on in here? Am I snooping around trying to work out is this thing right for me?" There's a variety of reasons why you might want to go to an event. I mean the most simple one is you want to learn and grow so that you can impact more people.
How do you stay focused so that you make sure you bring home the bacon and get that all-important impact?
Let's start with the basics, yeah, food and water. You do not want to go without really good quality water and good food. Now, I know, when you're on holidays, there's a tendency to get snacking and try a whole bunch of Mexican feasts. Well, I know that's my thing, but I like to land, check in, and then go and get a big supply of water from the store because sometimes the water in the hotel sucks. Yeah, water is one of the biggest things on my list, and then also snacks. I usually brings snacks from home, and they're little, healthy, I'd hate to say vegan or gluten-free or whatever, but just really good snacks that I know that aren't going to bloat me, and I'm going to feel good on them. I'm not going to have a big energy spike. I'm just going to be nice and cool throughout the entire day.
If I'm speaking, I like to bring some vitamins so that I know that I'm prepped in the morning. It takes a lot of energy out of you being in front of a room. You got the air-con that's drying you out. You've got an energy suck. You've got all this energy, and you want to express it and give it to the room, but then you are so flat at the end of the week, so you want to make sure you pack up all your usual vitamins and minerals that you take on a daily if you do take them. If you don't, you should totally invest in some, and just specifically for the event because you want to make sure that you are just … you don't want to turn up sick. I mean your audience doesn't want to see you sick and droopy and you got to get a tissue every five minutes, so yeah, you want to make sure you got a vitamin pack that's just your go-to pack so that you feel freaking amazing.
You want to bring some drugs. You want to bring some Nurofen, some pain killers, some, I don't know, anti-inflammatories, just stuff that you know that, if something did happen, you've got your nasal spray and all that other stuff that … yeah, your drug pack basically, your travel drug pack, because the last thing you need to do is go out and buy something that's not going to work because it's not the same thing that you have at home, yeah, so you need to have a travel drug pack.
You're going to want to layer up. You don't want to just bring a top and some pants. You want to make sure you're nice and layered so that, throughout the day as the room gets hot and cold, you can kind of take it off or put it on.
I don't leave home without my iPad. I like to refer to it before I go out on stage, but even as an attendee, I like to make notes on my iPad.
I've downloaded the app Notability, and so that means that I can grab documents from Google Drive or PDFs that the team has put together. I can load them into Notability, and I can write on them like I would a notepad. My iPad is my notepad.
I think the last point here is just pack light, although I told you to layer up and bring lots of things to layer yourself up, but if you can just pack lightly, you've got less crap to worry about. I just try and pack as little as possible. Leaves more space for shopping too.
Events only work if you turn up with your fully-functional self, your best self, so here's five takeaways on how to get the most out of conferences and events…
Get comfy. I do not like turning up after a 14-hour flight to LA and checking into my hotel, and it's dodgy. If you ever see me, ask me about my honeymoon. That hotel in Hawaii was capital D for dodgy, but we quickly got moved, so thank you, hotels.com.
Make sure you do plenty of research or your assistant does plenty of research on the ground before you go to make sure that this is the right spot for you. Being my second time in San Diego for Social Media Marketing World, I stayed in a Gaslamp Quarters last time, and that was freaking awesome, but there was parties going all night, so thank God I was just zonked at the end of the day, and I just shut my eyes and went to bed. If I wasn't feeling that way, I would have stayed up all night listening to the music that was going around the block basically.
This time around, I have chosen to stay at one of the big hotels. It's close to the convention center right on the water there, so I know that getting back and forth every morning's going to be really easy, and I've got plenty of breakfast options because I scoped them all out last year. The hotel looks freaking awesome. I'm so excited to check-in. There's a pool. There's a spa. There's a gym. There's bar. What more would I want from my San Diego getaway?
All right, number two. Now, I am known for flying across the water and landing and then, bam, straight into the event. Get there early. If you can check in a few days earlier and leave a few days after the event, that allows a little bit of time to get around and to meet people. I found, at the last Social Media Marketing World event that I went to, there was an event going on Saturday or Sunday, and I was in Mexico or I was flying out that day, so I missed a few networking opportunities.
Learning from my mistakes, this time, I'm making sure getting in a little bit earlier, and I'm leaving a little bit later. Because of this, I got word that there was a party with Pat Flynn going on the night before. I have to check my calendar. Yeah, because I booked my flight a little bit earlier, I can totally make that party, and I'm super pumped to meet the people that are going to be hanging out with Pat and, of course, to meet the most amazing Filipino man ever, Pat Flynn.
Takeaway number three, have a plan. Now, I don't mean just have a plan of attack in terms of what room you want to be in at what time. I'm saying have a plan for your business. Don't turn up to the event not knowing where you're going, what you're offering, and who your customer is because you will get in the room, and you will be just inundated with shiny objects and things that you could take on and put in your business. Make sure you have a plan for your business over the next 90 days, and then you can work out where best to spend your time.
There might be people in the room that can teach you about podcasts or there might be YouTubers in the room so if you haven't done that pre-planning of your business, you're going to get there, sit down, and then there's going to be the shiny object syndrome basically. I mean it's not your fault, just that no one told you to plan for the event.
Takeaway four, exercise. Now, I'm not talking Olivia Newton-John you gotta get down with the Xanadu dancing and getting physical and all this sort of stuff, but you should be making plans to just at least go for a walk. I know, myself, I'm going to go for a swim. I'm going to hit the gym because I need to get the blood flowing in my body. I find that this helps me move from timezone to timezone, and it just keeps me refreshed. It keeps me sleeping at the right hours, and it keeps me awake at the right hours, so getting a pump on and going to the gym or going for a walk, at least, if that's your style. Totally, schedule those babies in so that you can get the most out of your energy levels for the event.
Takeaway five, not allowing time to actually action what you've learnt. It's really important to go to an event and to take notes and to be blown away and, "Oh, my God. I'm going to do all that," but then if you just go straight back to your desk, something's going to find it's way in front of the notes that you took. Then, eventually, so much time will pass that you've completely forgotten about the things that you wanted to action. Make sure you spend time penciling or permanent markering in time to make sure that you can go through all your notes and action the key points and put them into a new 90-day action plan.
All right, legends, well, I'm going to wrap for another episode of Nailing It. I really hope you're enjoying it. Someone tweeted me on Twitter the other day and mentioned an old podcast. You're freaking awesome. Shout out for Tim Griffin, legend. Thank you for listening.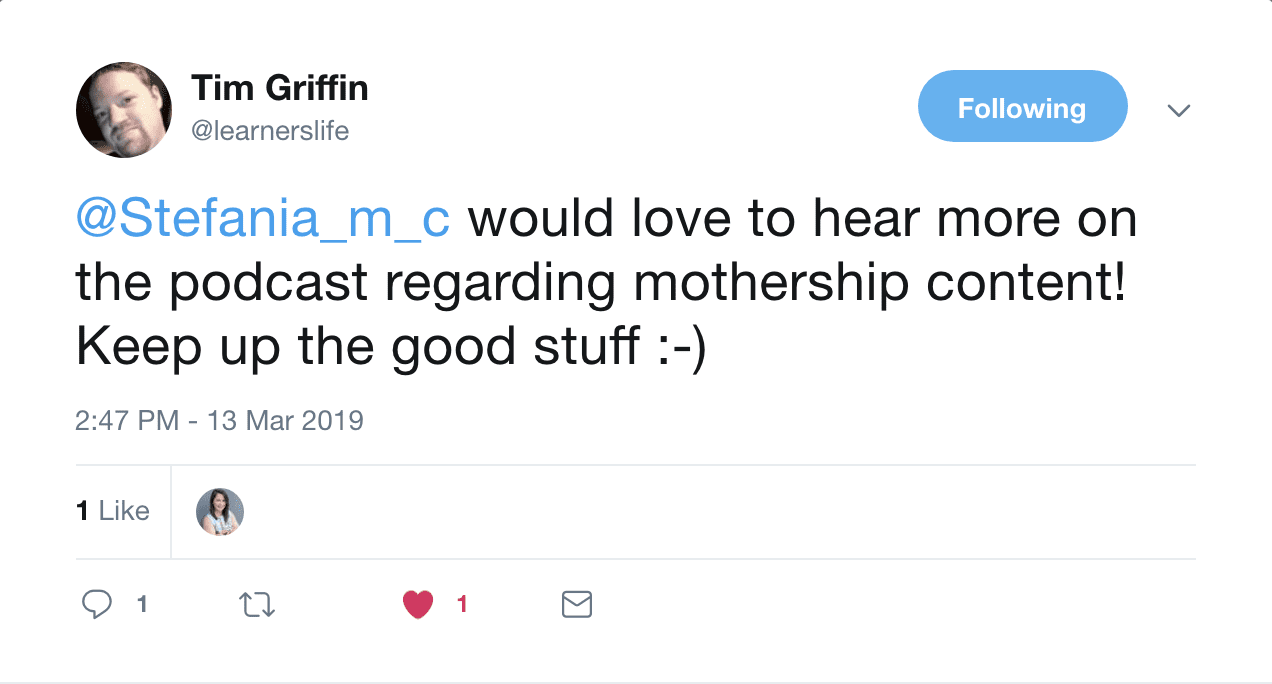 If you want to get amongst it, I have built an awesome Facebook community with lots of other digital creatives in it, so feel free to jump in here.
Until next time, keep nailing it.