Nailing It 03: My First Hire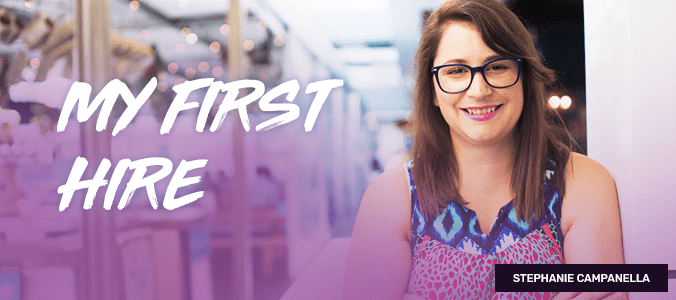 This is Your Digital Marketing Nailed with Stephanie Campanella. Episode number three. On today's episode, I tell you the story of my first hire. The reality check that suddenly dawned on me and how I fixed this in order to grow.
Now first, one thing that might be worth mentioning here, I am a lone wolf. I like to do things on my own. I didn't know I was a lone wolf until someone pointed it out – but still, it's in my nature. I love being independent and being able to do whatever I want, whenever I want. That's how I roll.
Okay, so it's 2015 and I'm pretty popular. I've got a steady amount of work coming in but I'm finding less hours in the day to do everything. Back then I took super pride in the fact that it was all me. Boom. I'm a rockstar. Ain't nobody designing websites like Steph Campanella.
A bit of backstory here. I'm an art student and we got our first computer in, gosh, something like 1994, an old white box Compaq thing, loaded with Encarta, of course. I had no idea what I was going to do once high school finished and frankly, I didn't have the grades to get into university. So Mum, being a smart cookie, saw that I loved art and I was clearly a bit of a computer nerd. So she threw me into Graphic Design college.
Web design was the first thing I actually felt that I was good at. And wow, I had started a business and I'm doing okay. So the thought of letting Graphic Design go, that was personal. But if I was going to grow this business and actually have free time, the whole reason I started this damned thing in the first place, I needed to hire.
Now I couldn't afford an Aussie. I was barely paying myself a wage at the time, just scraping by. But I knew if I hired a designer, I could get out more often. I could catch up with clients and I could network like a pro.
Do you know what I did next? I went looking for a new rockstar.
First things first. I needed a brief. What type of designer did I need? Now, I needed a web designer. So I sat in Trello and I thought about all the daily tasks or all the tasks that make up a web design job, the wireframing, the colour swatches, the research, the actual design work. I put together all the tasks that made that portion of my business. Then I put it in a Trello board and that helped me put a brief together. Off I then went to Elance, which is now called Upwork, and I posted my job and I started looking for experts. I started looking for, not just designers, but web designers, someone really specific to what my job role was and I found him.
Now sure, he wasn't the first profile that showed up but he was one of the couple that stood out. Why did he stand out? Because his designs looked awesome. They looked a little like mine and I knew, with a little bit of advice, I could get this guy in my business, designing the way that I want to design but he'd actually do the work.
Long story short, we negotiated pay and worth and away we went. He joined the business and I can thankfully say that this guy is still in the business today, some three or four years later.
Okay, let's wrap. So learning points. If you're going to run a business, in my experience, you cannot do everything. You will drown. You must trust somebody else to do that job and you must set a firm brief and make sure that they're following it. Set strict communication guidelines and create touch points throughout the day to make sure if something is going wrong, at least you catch it early.
Now if you're running a business and you have that drowning feeling, then I suggest you start looking at the tasks that you do every single day and work out the things that you want to do and the things that you don't want to do, the things that you're good at and the things you're not so good at. Create those lists. Build that new staff member. Don't make it a unicorn. Don't make that damned list so long that it is impossible to ever find someone to fit that role. Make it specific. Make it singular. Make it achievable and then go out there and find that person, get them in the business and start growing.
Well, that's it for today. If this episode has made you stop and think, "O-M-G. I need staff." Then please, go to iTunes and leave me a review because I want to reach as far and wide as possible to make sure every business owner is hiring staff as quickly as possible.
Was this episode of value to you? If so, do me a massive favor and tell five friends about this.