Nailing It 10: My Story – Stephanie Campanella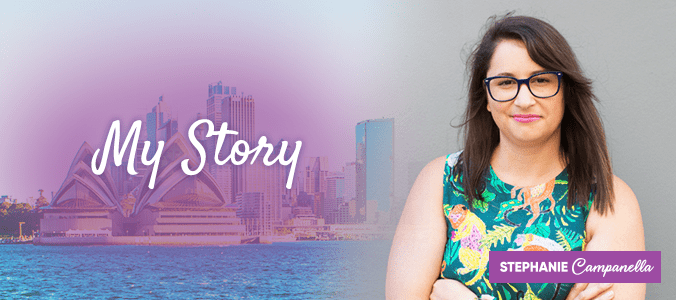 Hey guys. Welcome back to another episode of Nailing It with Stephanie Campanella. You might've noticed we changed our podcast name, yep we changed it from Your Digital Marketing Nailed to Nailing It with Stephanie Campanella. Why? Because the content is simply not just about digital marketing, the more that I hit record the more I realised that there is such a broader piece here. Every time i created a new piece of content – the name just didn't align with it! So yeap. We changed it.
So yes, any lesson in marketing is always that you should action quickly and without doubt and always look forward and that's basically what we did. We ripped the bandaid off, we called it Nailing It. I checked in with my mastermind crew and I said, girls, what do you think? And they just went, "Oh, bloody hell Steph, this is right now. Okay, you get going girl." So I was like, right, let's get this cracking.
It's also Episode 10 so I thought this is a great chance for me to explain where I've come from. My history and what I've been able to achieve in such a limited amount of time.
Where did I all start from?
Straight out of high school in 2003, this is a long time ago, I was a Graphic Design student. I got out of high school and I wasn't sure what I was gonna do and I kind of worked locally for a little while. Then I thought, you know what? I'm going to go into Graphic Design because I'm an art student, I've done nude drawings, I've done sculptures, I've done watercolors, I've done oil painting, like I'm a big art person. If I had more time I would definitely just be sitting with an easel creating art.
I'm also very good with computers. I always seem to just click with that sort of stuff, so Graphic Design seemed like the right thing for me, and it was amazing. It was the best thing that I'd ever done. I was in love with the damn thing. Thank you, Hornsby Tafe for putting on the content.
So there I was, a Graphic Design student back in 2003 going along…. I was 19 and right in the middle of that first year, I had a car accident. I was on my way home from Tafe and a gentleman in a Toyota Camry, (I'll never forget that) was on the phone – you could see his hand and the phone because back then Bluetooth wasn't a thing. And yeah, I'll never forget, I looked in the rear-view mirror and there he was coming right into my backside.
So I had a bit of a major car accident and that moment changed my life forever. I never thought that I would be working as a Graphic Designer ever again. Like it was insane. My whole life had shifted. That was it. I was flat on my back, I had really bad neck and back, whiplash and yeah, my whole life changed in front of me. I had every issue known to man and um, my life all of a sudden was all about going to physio and chiro and hydrotherapy and needles and cortisone shots and CT Scans and brain scans, and you name it. So I had a pretty crap start to my career. It actually took five years for me to really get back up and running again. So everyone that I met at Graphic Design school had left by the time I returned in 2017.
I did eventually go back to Graphic Design, and I finished the course. And I was lucky because when I did go back, the world had changed. \
Five years later, Digital Marketing had come about and everyone was talking websites and the internet. They were generating a little bit more popularity and there was more uptake in business. So as well as, all that publishing kind of work, magazines etc (and I mean everyone wanted to be a magazine editor). The students wanted to be photoshop editors. And for me that wasn't it, that didn't really feel right for me.
For me there was one small module for websites and web marketing and I aced it. And I loved my mentor and my tutor. He was fantastic. I was in my Sweet Spot – This is the best. I was helping everyone around the class because it just clicked. I just got it. And Chris (my tutor) said, Steph, you just got to go out and get a job like right now because you are just going to ace it, you're already on the ground and running. So just go and apply for some jobs and see what you find.
And so that's what I did.
I went and applied for a Graphic Design and marketing role in The Hills and I got it. I worked in this position for 18 months and it was an amazing job. It was a small business – I took care of the websites for the clients. I took care of general marketing events, all the graphics design stuff that is necessary and pull-up banners, brochures and blah, blah, blah. But the best part of this role was that I got dragged along to all the marketing events – Kerwin Rae, Brian Sher and Simon Reynolds.
So I very quickly got into this whole world of marketing.
The second job I ever had was as a head of web development. So I thought, you know what, let's go, let's go big city. So I looked for a bigger job in the city and I found one as the lead web developer. And I let my little Castle Hill job go and, yeah, I was out there being head of development, you know, woo hoo in the city working with big name clients.
And the thing that I really learned was it didn't matter, big or small budget, client, whatever. Everybody matters. Everyone needs a solution, and it's our job to find that.
I've really only ever had two jobs. One that I moved on voluntarily, and the other I got retrenched from. Yup. About eleven months and three weeks, I was made redundant and that just killed me.
I just couldn't believe it. You know, you're going to work and then at 2:00pm, you get told you don't have a job anymore. And that was it. I had no control. Living out in The Hills, I couldn't even get home because the buses didn't turn up till later that afternoon, so I kind of hung around and waited for the bus to take me home. I just thought to myself, I am never ever going to not have control ever again. I'm never going to be held at the reins of someone else's choices.
So in March 2011 I was retrenched.
But! Being a Graphic Designer/web designer everyone is always asking for help. Everyone needs it. And I would normally always say no, because I can't commit. I can't do that. I've got a full time job.
But as soon as I was retrenched and just chilling and taking a moment to see what the hell I was going to do, I thought, bugger it. I'm going to start calling everyone that had ever asked me to do any work and tell them that I'm available now.
That really got the ball running. Before I knew it I was going to meetings. I had my little compendium and I was heading back out, so it was really good to be able to close the book on my full-time working career and build my empire.
I never imagined I would own 2 amazing agencies and have 10 staff – but this is the best thing ever.
The first thing that anyone should do when they don't have any work is call your network. You should call around and let everyone know what you do and the solution that you can create for them. And it'll drive work. It did for me.
In 2016, I was a mentor for the global program UGurus, and that's where I started teaching my peers, other web designers and other web developers, how to run a better business. That was fantastic. It was all based online using Zoom to connect with people all around the world.
Ever since then I have been taking on coaching clients, one a quarter and really showing them, how to unpack their business. Understand better project management. Understanding how to hire staff. Putting processes & systems in place. And turning on the exact content marketing machine which helped my business grow.
So it's really cool how I've come back full circle, and I'm now passing on everything that I've ever learned to my coaching clients. That's cool.
I never thought I would be running two agencies. I've got my Summit Digital, and I've got Tradies Get Online, and they're fantastic. Summit Digital is the original business that I've always built and that's just got all the pre existing clients in it – all relationship based. We basically just roll out marketing programs for our clients and achieve our goals. My Tradies Get Online agency is just for tradies. It's my niche business. It's my passion. Because I come from a family of tradies, so working with tradies kind of feels like home.
The smell of concrete kind of makes you feel like home. Funnily enough. Now a lot of people asked me how did I niche? How did I pick a niche and go with it? Basically it came down to surveying my entire client list and realizing that 35% of my clients were tradies, and I felt really comfortable in that space. I know home renovating and building and construction and brickies and electricians and rah, rah, rah.
So moving into that space just felt like home. So quite often people will just pick a niche and they're not really sure why they're doing it. I think you should have a passion, and I think you should have a love for the niche and that's what'll really help it grow. That's definitely what's helped me. I can connect with my clients. We're on the same level, and we really respect each other and there's a comradery there. And it just works. I totally understand the position that they're in and where they want to go. I know I can help them because I've helped hundreds before. So it's awesome.
There's a quick snippet of my story coming from a Graphic Design background, a massive car accident – that seriously changed my entire life. My health has been the biggest focus ever since then.
The big focus to is never ever give up. Always have the courage. You're going to need courage to drive through doubt. You're going to need determination to continue getting up every day. And you're going to need clarity. Clarity to make sure you stay on track, and you climb one ladder at a time.
I always visually think this way every time I have a new idea.
Are you halfway up a ladder? And you're about to slide down it and climb another one?
It's going to take twice as long for you to get momentum in your new ladder. So are you sure you want to jump off your first ladder?
If this episode was of value to you, please do me a massive favor and head over to iTunes and leave me a review. It would mean the world to me.