Where can I get pictures for my website?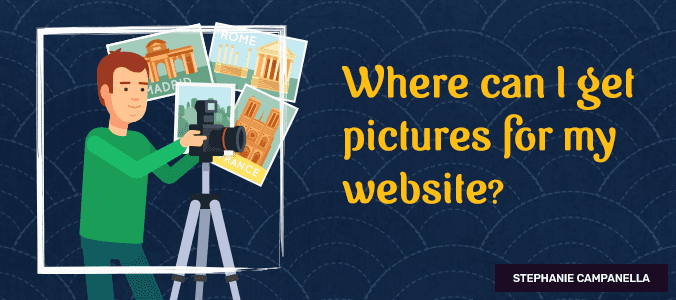 There is a considerable amount of time you invest in ensuring your website and social media is maintained and working precisely as planned. You create and post engaging blogs, utilize social media and steer traffic to your site. All of this is necessary, but no less important than the images visitors find there and within your social media postings. We are aesthetic creatures, and the right images can be very powerful.
Finding the right images isn't all that difficult, as long as you know where to look.
Take a look at the below resources, these will help your articles and social media postings come to life.
PS: Googling for free images is actually illegal. So don't do it. Use a stock image library.
Unsplash – Not only does Unsplash keep adding fresh photo options, they are also entirely accessible allowing you to use them in any fashion you see fit. They afford you with high-quality photos and have managed to avoid the feel and look of stock photos.
Pexels – Having a user-friendly interface allows visitors to search thousands of photos with a variety of search options. Search from a list of the top photographers, or maybe a particular keyword and Pexels even allows color based search options.
Stock Up – With some new renovations Stockup's new streamlined library is better than ever. Just search with a keyword or by popular photos and see what you find. They also have given users the option to search for any newly added photos as well.
If you haven't found that perfect image yet don't get frustrated. Sometimes you really do get what you pay for, check out these sites for options that won't break the bank:
Pixabay – We've use this site plenty of times to find really rich images. With over 1.3 million images – i think you'll find something in here too.
Adobe Stock Images – Find the perfect asset for your next creative project – this also syncs with Adobe's products.
iStock – This site is subscription based and offers special options for members.
Shutterstock – Simply put, over 70 million images – how's that for options?
Now that you have the perfect photo, there is a good chance that you may want to alter, adjust or add to it. Here are a couple of excellent editing tools for just that purpose:
Lunapic – An outstanding basic editor with functions like centering or cropping, this easy to use tool won't cost you a penny.
Canva – Although the full package will require purchase, there are many useful photo editing tools that are free to use here.
Burst – A sub product of Shopify – You can search by popular categories and see what's working
So go on! Give these resources a go.